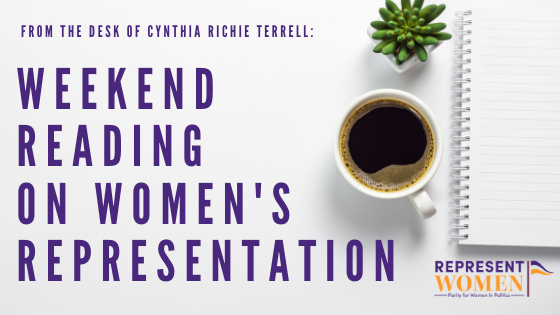 Weekend Reading on Women's Representation is a compilation of stories about women's representation in politics, on boards, in sports and entertainment, in judicial offices and in the private sector in the U.S. and around the world—with a little gardening and goodwill mixed in for refreshment!
---
It has been a tumultuous week for election results in the United States!
The race for governor of Arizona that featured two women candidates running against each other was called for Katie Hobbs, while victories for ranked-choice voting (RCV) were confirmed in Nevada and Seattle.
The Alaska Board of Elections is scheduled the run the RCV tally on Wednesday, Nov. 23, but it's looking quite likely that Democrat Mary Peltola will win the state's lone House seat and Republican Lisa Murkowski will win reelection to the U.S. Senate.
Nevada voters also passed the most comprehensive state equal rights amendment in the nation on election day.
Status Quo Election for Women Candidates
While we are still waiting on several races to be decided, we can safely say that the 2022 midterms will be a status quo election for women in Congress, with women holding the same number of seats in the U.S. Senate and either gaining one, losing one, or maintaining the same number in the U.S. House. There will be no Black women serving in the U.S. Senate or as governor.
The number of women senators has slowly grown since the 1970s but has plateaued in recent years. The current record for number of women serving simultaneously was set in 2020, when 26 women had seats due to special appointments. However, the record was short-lived because Martha McSally lost her Arizona seat to Democrat Mark Kelly in the election that year.

Black women continue to not be represented in the Senate. There have been no Black women in the Senate since Kamala Harris resigned to become vice president in 2021, and Senate bids by Val Demings in Florida and Cheri Beasley in North Carolina were unsuccessful. Only two Black women have ever served in the Senate.
---
Record Midterm Election Spending
According to data from Open Secrets, federal candidates and political committees are projected to spend $8.9 billion this election cycle, which is almost $2 billion more than was spent in the 2018 cycle.
Election-related spending at the federal level has already blown past the inflation-adjusted 2018 midterm record of $7.1 billion. State-level candidate, party committee and ballot measure committee expenditures could surpass the estimated 2018 midterm spending record of $6.6 billion, adjusted for inflation.

"No other midterm election has seen as much money at the state and federal levels as the 2022 elections," said Sheila Krumholz, OpenSecrets' executive director. "We're seeing record-breaking totals spent on elections up and down the ballot."

Based on data reported to the Federal Election Commission through Nov. 1, just over $7.5 billion has already been spent on federal 2022 midterm elections. Federal candidates and political committees projected to spend $8.9 billion total on the 2022 midterm election.
---
Ruwa Romman Makes History in Georgia
All eyes have been on Georgia this midterm cycle. Georgia has become a clear swing state, and many are holding their breath in anticipation of the December runoff between Senate candidates Raphael Warnock and Herschel Walker.
However, there are other reasons to look to Georgia as a state which is becoming more representative of its citizens.
Ruwa Romman, 29, made history this cycle as the first Muslim woman elected to the Georgia House (District 97) and the first Palestinian American elected to any office in the state.
As an immigrant, the granddaughter of Palestinian refugees, and a Muslim woman who wears the hijab, or Islamic headscarf, the road to political office hasn't been easy, especially in the very Christian and conservative South.

"I could write chapters about what I have gone through," Romman told CNN, listing the many ways she's faced bigotry or discrimination.

…

But those hardships only fueled her passion for civic engagement, especially among marginalized communities, Romman said.

"Who I am has really taught me to look for the most marginalized because they are the ones who don't have resources or time to spend in the halls of political institutions to ask for the help they need," she said.
Romman built a grassroots campaign, knocking on over 15,000 doors, sending over 75,000 texts, and making over 8,000 phone calls. Her opponent openly used anti-Muslim rhetoric, but her win shows a path away from hate and bigotry, towards a more inclusive Georgia and nation.
On RepresentWomen's 2022 Gender Parity Index Georgia ranks 36th out of 50 states with a D grade and score of 17.4. In terms of women's representation in state legislatures, Georgia ranks 20th in the nation, with women making up 34% of the state legislature.
---
Colorado Elects Majority-Women State Legislature
Colorado has become the second state (Nevada was first) to elect a majority-women state legislature with women slated to hold 51 of 100 seats in both chambers according to this piece in The Durango Herald:
Colorado's state Legislature is poised to have more women than men in 2023 for the first time in the state's history, with 51% of Colorado's state legislators being women after the 2022 midterm elections.

Assuming several remaining close races are all called as expected, Colorado will have 39 women in the state House and 12 women in the state Senate in 2023 – meaning a total of 51 women in the 100-seat Legislature. House Democrats will have 34 women and House Republicans will have five women in office, while Senate Democrats will have 10 women and Senate Republicans will have two women in office.

Before the election this month, the highest percentage of women Colorado's Legislature had was 48%, at the start of the 2019 session. It decreased to 46% by the end of the session, and back down to 44% in 2020 and 2021, according to the Center for American Women and Politics at Rutger's Eagleton Institute of Politics. In the 2022 session, it rose back up 1 percentage point to 45%, making the 2023 session the highest, at an anticipated 51%.

The figure will make Colorado the second state to reach this milestone: Nevada was the first state to have more women than men in a state legislature, when two women were appointed to vacancies in December 2018. According to the CAWP, Nevada's Legislature was 52.4% women by the end of the 2019 session, 54% in 2020, and 58.7% by the end of 2021 and 2022.
---
Another First: Karen Bass, Los Angeles' First Woman Mayor
There's a new boss in town! Los Angeles, the second largest city in the U.S., has elected Representative Karen Bass to be its first-ever woman mayor. Karen defeated billionaire developer Rick Caruso, who waged the most expensive campaign in the city's history. Julia Wick of the Los Angeles Times reported:
"The people of Los Angeles have sent a clear message: it is time for change and it is time for urgency," Bass said in a Wednesday evening statement. She learned of the news while in her Los Angeles congressional office, according to the campaign…

"This moment is tremendously historic for two reasons," said USC political science and international relations department chair Ange-Marie Hancock Alfaro, citing Bass' win, along with a broader transformation in local political leadership.

Five years ago, there were two women on Los Angeles City Council and none held citywide office. By the end of 2022, at least five women will be seated on the council and two will hold citywide office — Bass and incoming City Atty. Hydee Feldstein Soto. At the county level, women now hold all five seats on the powerful Board of Supervisors, which historically had been overwhelmingly male.

"Los Angeles is really experiencing what I would call a moment in women's leadership in history," Hancock Alfaro said…

She started her career as a nurse and physician's assistant, working through the height of the crack cocaine epidemic as the crisis devastated South L.A. communities. Community Coalition — the politically influential nonprofit she founded — began with a living-room meeting Bass led in 1990.

Long before she became the first Black woman to lead a legislative body as California Assembly speaker, Bass' community-based leadership frequently brought her to City Hall as an advocate pushing lawmakers from outside the system.

Now, amid fractious battles and frequent protests in council chambers, she will return to City Hall as the ultimate insider — the leader of the nation's second-largest city.
---
Nancy Pelosi Steps Down From House Leadership
Nancy Pelosi announced on Thursday that she would not seek a leadership role in the 118th Congress after serving in leadership positions in the Democratic Party in the House for almost two decades:
Speaker Nancy Pelosi was applauded by her entire staff as she walked off the House floor after announcing that she would step down from Democratic leadership in January. Staff members clapped and cheered, while several cried.

Minutes after Speaker Nancy Pelosi announced she would no longer seek to lead House Democrats, a new and younger trio of leaders began a campaign to take over their caucus's top ranks.

Representatives Hakeem Jeffries of New York, Katherine Clark of Massachusetts and Pete Aguilar of California were expected to seek the top three spots among House Democrats, according to people familiar with the plans, while Representative James E. Clyburn of South Carolina was expected to cede his job as whip and seek to become the assistant leader.

It would be a dramatic generational shift from a leadership team of Ms. Pelosi, Steny H. Hoyer of Maryland and Mr. Clyburn — all in their 80s — to three lawmakers in their 40s and 50s. (Mr. Jeffries is 52; Ms. Clark is 59; and Mr. Aguilar is 43.)
---
Favorable Perceptions of Women as Leaders Have Dropped Significantly in the United States
I was so glad to attend the Reykjavik Global Forum last week in Iceland where I had the chance to talk to a number of women parliamentarians, meet with global leaders, and hear a very interesting presentation on the Reykjavik Index for Women's Leadership, which tracks attitudes towards women's leadership in G7 countries.
Data from the Index shows that favorable perceptions of women as leaders have declined in some countries but have dropped significantly in the United States:
The annual Reykjavik Index for Leadership data shows a widespread lack of progress and in some areas regression, in G7 countries and others, on the perception of women and men being equally suitable for leadership. Some areas of the Index, the first measure of perceived suitability of women and men for leadership, have dropped to levels lower than were first measured when the Index was launched by Kantar Public and Women Political Leaders in 2018.

"This year's data is a call to action for our global community to accelerate progress in women's rights," said Kristjansdottir and Koch-Mehrin, co-founders of the Reykjavik Global Forum. "From introducing legislation to improving cultural portrayals, we are committed to a global, cross-platform, intersectional effort to achieve equal rights for all."

"When the Reykjavík Index for Leadership was launched five years ago at the Forum, we acknowledged that progress in equality for women was far from guaranteed," Kantar Public CEO Harrison said. "What this year's research tells us is that governments, employers, academic institutions and communities need to double down on collective action – not just for women living and working around the world today – but for future generations."
Up next:
U.S. democracy is at a dangerous inflection point—from the demise of abortion rights, to a lack of pay equity and parental leave, to skyrocketing maternal mortality, and attacks on trans health. Left unchecked, these crises will lead to wider gaps in political participation and representation. For 50 years, Ms. has been forging feminist journalism—reporting, rebelling and truth-telling from the front-lines, championing the Equal Rights Amendment, and centering the stories of those most impacted. With all that's at stake for equality, we are redoubling our commitment for the next 50 years. In turn, we need your help, Support Ms. today with a donation—any amount that is meaningful to you. For as little as $5 each month, you'll receive the print magazine along with our e-newsletters, action alerts, and invitations to Ms. Studios events and podcasts. We are grateful for your loyalty and ferocity.